S02E01 : " Piercing the Small/Midcap Investing Chakravyuh" with Samit Vartak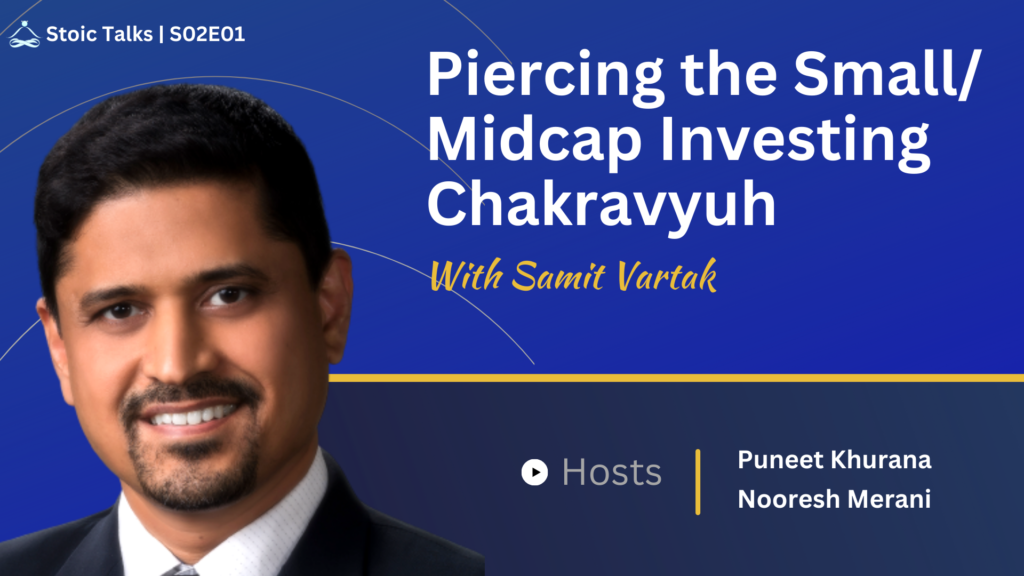 We start the STOIC Talks Season 2 with Samit Vartak.
Samit Vartak is the founder and Chief Investment Officer (CIO) of SageOne Investment Managers, (PMS) which has had a stellar performance record since its inception.
Link here to see details https://www.pmsaifworld.com/portfolio/sageone-investment-managers-core-portfolio/
Samit has a commendable corporate experience prior to his joining the Investment world.
After finishing his MBA from OLIN School of Business (Washington University) and CFA, he spent a decade in US working in corporate strategy with GAP Inc and PWC Consulting, Deloitte and E&Y in their M&A departments.
SageOne follows a Growth Investing philosophy where the key emphasis is to spot high growth businesses with sustainable competitive advantage run by clean and competent management.
Samit has also penned his philosophy and views in various blogs and shareholder letters.
In this episode, both Puneet and Nooresh delve deeper into the nuances involved in such an approach.
We wholeheartedly thank DSP Mutual Fund for collaborating with us for this particular episode of Stoic Talks.
[Podcast Record Date: 30.08.2022]
Samit Vartak is the founder and CIO of SageOne Investment Managers. 
To Read the Transcription, please login
Background, initial education, and the journey      [ 9:28]

Returning to India and understanding the Indian market [ 13:00 ]

Initial mistakes [  16:00  ]

Establishing SageOne [  32:00  ]

The journey towards the right investment style [  43:00  ]

Selection and allocation of stocks  [  1:03:00  ]

Capital allocation  [ 1:07:36  ]

Reasons for selling stocks [  1:23:00  ]

Initial allocation of stocks  [  1:27:00  ]

The role of spirituality in Samit's life  [  1:32:00   ]

Rapid Fire  [ 1:35:00  ]