S02E08 : "Inside ValueQuest: Unraveling the Investment Blueprint" with Ravi Dharamshi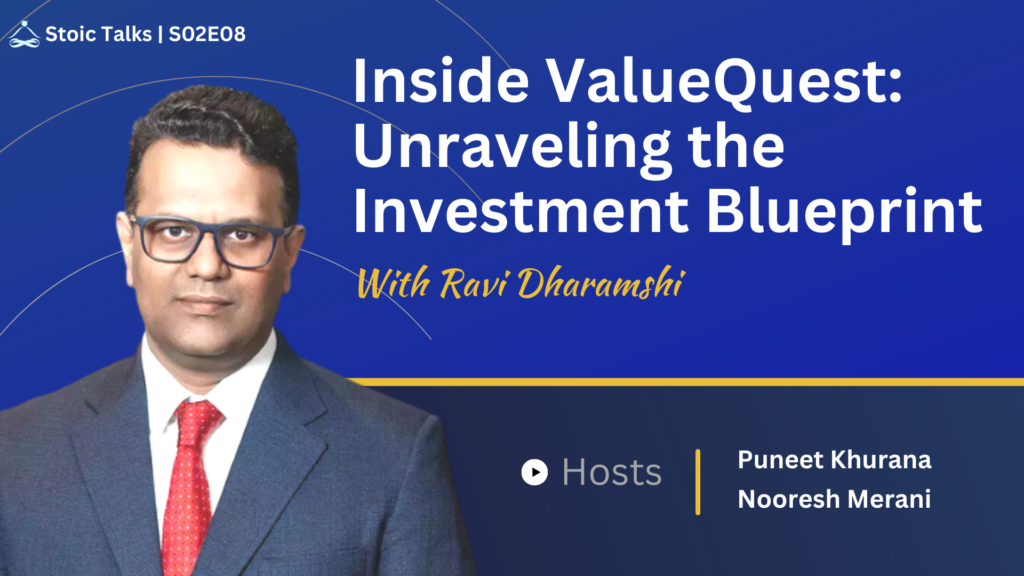 Ravi Dharamshi stands as a beacon in the investment landscape, with a career that speaks volumes about his expertise and acumen. With over two decades of experience in the Indian stock market, his journey is nothing short of inspiring.
Beginning his professional investment journey under the mentorship of the ace investor, Rakesh Jhunjhunwala, Ravi fondly recalls the invaluable lessons he imbibed during those formative years. The period from 2003 to 2007, which he spent with Jhunjhunwala, was marked by significant growth in the stock market, bolstering Ravi's confidence in his investment choices.
Ravi's association with the equity markets is deeply rooted in his family legacy. His father, a broker who began as a sub-broker in the late 1970s, played a pivotal role in shaping Ravi's understanding of the stock market. It was during his management degree in the US that Ravi's passion for the equity market truly ignited. Reading the Berkshire Hathaway newsletters and other investment classics, he realized that the equity market was his true calling.
In 2009, Ravi transformed the research firm, ValueQuest, into a portfolio management service (PMS), obtaining the PMS license in 2010. Today, ValueQuest Investment Advisors, a SEBI-registered portfolio management company, manages assets for HNI and Institutions. The firm's ethos revolves around fairness, transparency, trust, and proactiveness, reflecting Ravi's own values.
Ravi's investment philosophy is underpinned by a commitment to equities. He believes in having "skin in the game," ensuring that his investments align with those of his clients. His investment choices, whether in listed or unlisted equities, are driven by rigorous research and a deep understanding of market dynamics.
Beyond his professional achievements, Ravi is a sports enthusiast, particularly passionate about cricket. 
In conclusion, Ravi Dharamshi's journey in the investment world is a testament to his dedication, expertise, and ability to seize opportunities. His story serves as an inspiration for budding investors and underscores the importance of continuous learning, passion, and commitment in the world of investments.
We wholeheartedly thank DSP Mutual Fund for collaborating with us for this particular episode of Stoic Talks. Podcast Record Date: 01.07.2023
Ravi Dharamshi is the Founder, MD & CIO, ValueQuest Investment Advisors
To Read the Transcription, please login
[0:00] Intro
[2:00] Ravi's journey to the Stock Market 
[8:24] How did Ravi get opportunity to work with Rakesh Jhunjhunwala and his learnings from that
[15:22] Few Anecdotes about Rakesh Jhunjhunwala
[25:44] Ravi's stock picking criteria, selection of universe and importance of balance sheet
[39:28] Ravi's investing journey during COVID times
[47:08] Summarization of Ravi's stock picking process 
[48:35] Portfolio construction and Allocation strategy
[59:52] How does Ravi switch from existing portfolio stock to new ideas? 
[1:02:40] Selling Criteria and when to take cash calls
[1:05:16] Exceptions that Ravi made in his investing journey 
[1:10:39] Bridging gaps between Potential and Probability 
[1:15:48] How does Technical analysis fit into Ravi's investing framework? 
[1:18:55] How does 2008 crash shape Ravi's overall investing philosophy? 
[1:23:40] "Large Mistakes" in Ravi's investing journey
[1:27:22] End