S01E11: "Wit, Wisdom & Wealth" with Guy Spier
To the investing audience, Guy Spier, CIO of Aquamarine funds, needs no introduction. From meeting Warren Buffett accidentally by attending a class just because had a hots for a girl to spending upward of $ 300,000 to have lunch with Warren and then submerging himself in learning the wisdom, he is a fun guy to talk to and a wise gentleman to learn from. I had a great time recording this podcast but not only for usual investing lessons but some deep and interesting life lessons.
Following are a few quotes which I picked from his fascinating book "The Education of a Value Investor".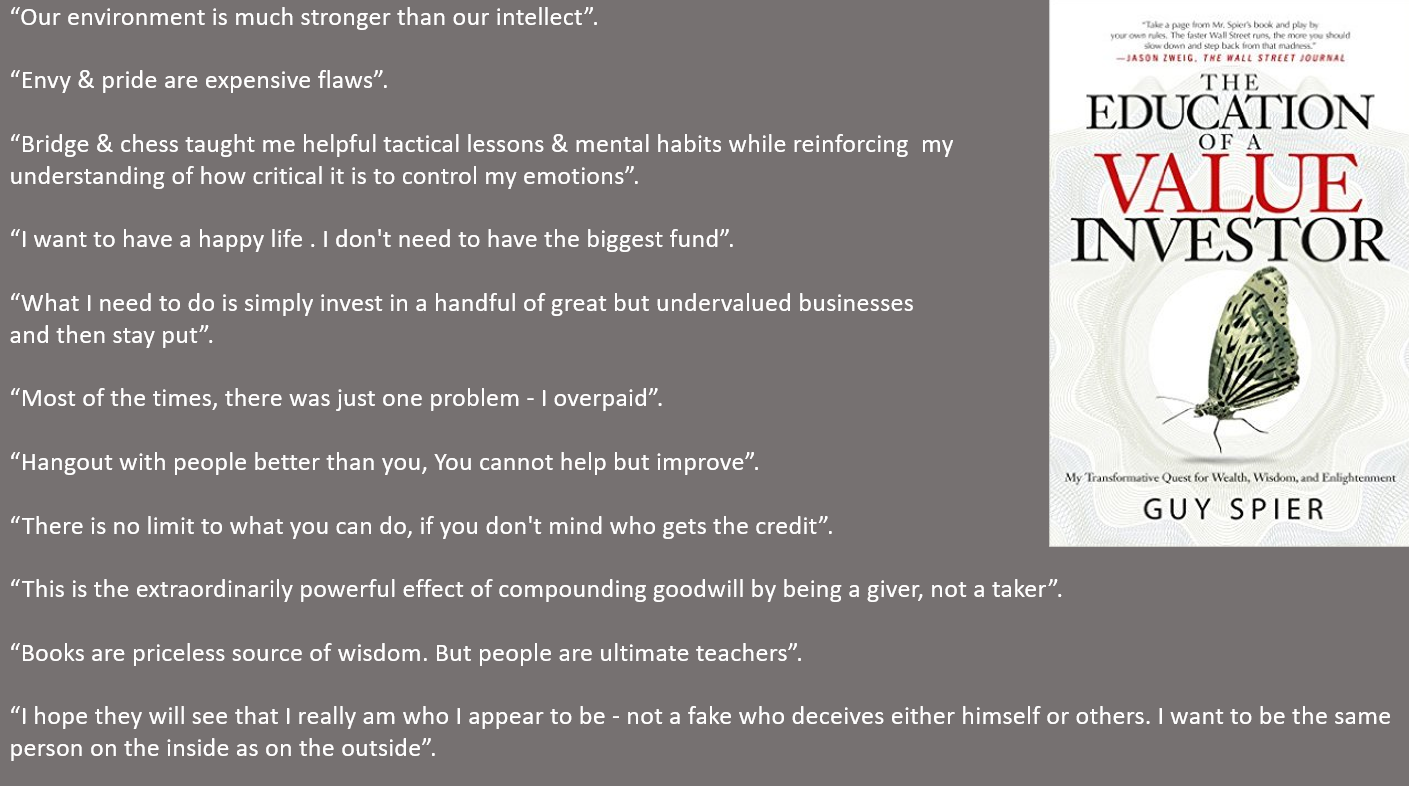 With that introduction.. let's listen to Guy Spier !!!
Guy Spier is the founder and renowned fund manager at Aquamarine Capital.
[2:56]: We are all students & are life long learners.
[5:16]: What is Value Investing – from the point of view of Real time world ?
[6:02]: Anyone who thinks they can avoid the downs, is living in another reality.
[6:57]: Romance with Value Investing & How did the lunch with Buffett fit in it ?
[9:26]: Most of the times, Map is not the entire territory. View on EMH, US [elections & Donald Trump.
[16:55]: Thought process while writing check of $650,000 for the Lunch with Buffett. Was it a multibagger after 8 years ?
[29:31]: What parameters you give importance while looking at companies ?
[40:54]: One of the screen includes, look for companies which increase the Sales & decrease the number of shares outstanding over a period of 5 years.
[47:10]: Has Moat investing became a difficult experience in the last few years ?
[56:30]: Case study of Verisign as an emergence of new moat.
[1:11:50]: How did you handled the debacle of Horse Head Holdings & what are the Anti-Fragile strategies you follow ?
[1:26:16]: Learning from previous mistakes & how did his checklist changed accordingly over the years ?
[1:30:22]: About building positions & view on averaging up ?
[1:37:41]: Focus on the things that aren't changing in the changing world.
[1:42:55]: About publishing Indian version of his book.